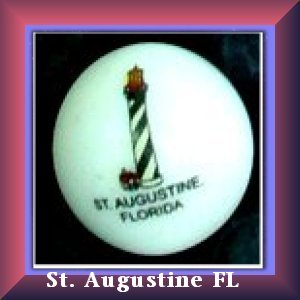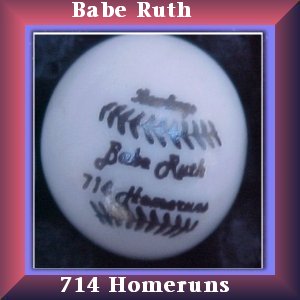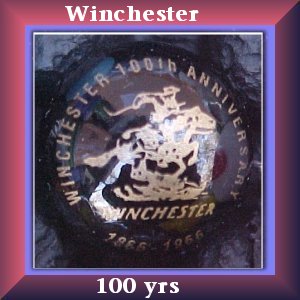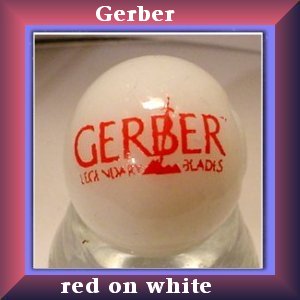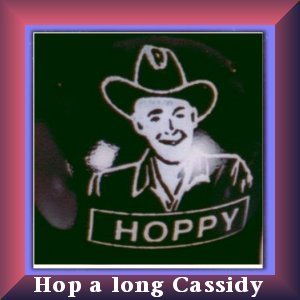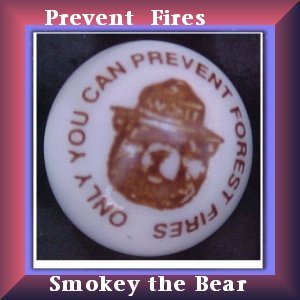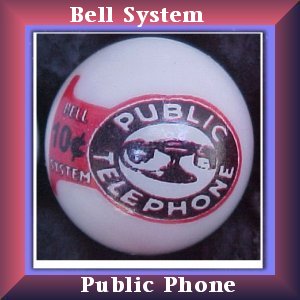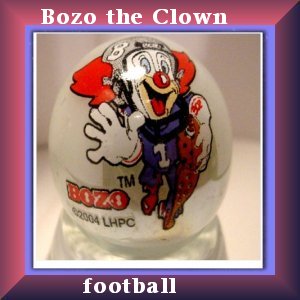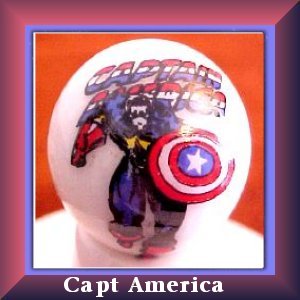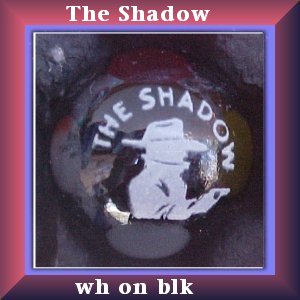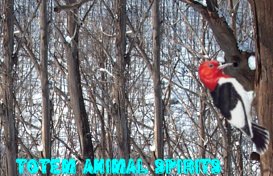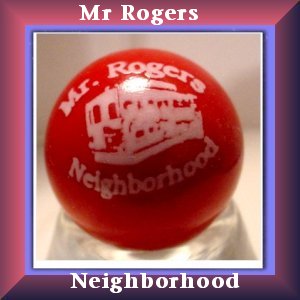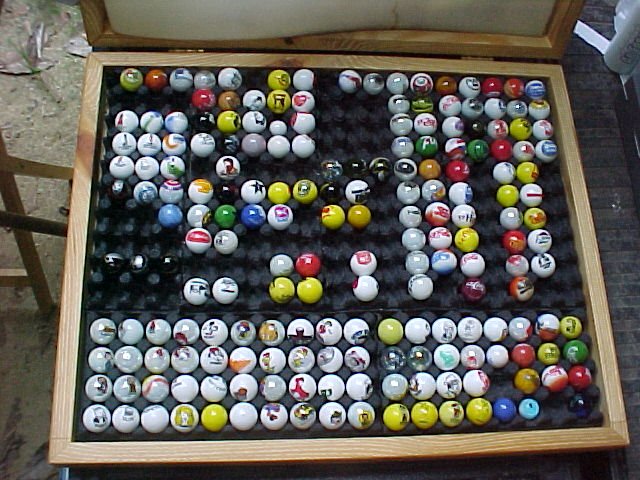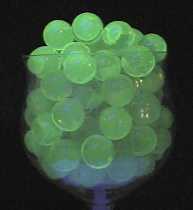 Vaseline glass marbles        in shooter and standard marble size

Just a few of the several hundred marbles available

                                   POLY BAGS

                 FAKE AND REPRODUCTION

The Alox Agate Company was in operation from the 1920s until 1989. They produced net mesh with their own marbles. The Alox Agate never made marble packaging advertising the U.S. military or even packaged any marbles in polyvinyl bags, as the following fake bags, filled with modern Marble King marbles.

With the advent of online auctions a new wave of marble started hitting the scene with the onset of these auctions such as ebay, yahoo, epier, bidville and other online auctions around the 199 or year 2000.  All of these bags are filled with modern marbles, with one variety per bag. These marbles are set to a particular color scheme which are intended, to be matched with the product with which they are supposed to be associated, such as Mountain dew with green and white swirl marbles. Though there is a large number of these bags, which have fake headers for many companies, many are for cigarette and other tobacco products. The older generation will remember that none of these were ever produced and such common sense  will tell you that even in the heyday of tobacco products, these bags , obviously would have been geared toward children,  would never have been released.

                                                 MARBLE KING FAKE POLY BAGS

Marble King it seems is the main target of such bags and they did produce some but it is extremely obvious what is real and what is fake. Marble King never sold its Rainbows in poly bags by type; they were always mixed. Also, vintage Marble King marbles have patches and ribbons of alternating colors, while their new marbles have a single ribbon of one color and two poles of another, which is an easy way to tell form fakes. The following set of packages represent both "fantasy" and reproduction polyvinyl marble bags. Some, like Champion Agates, Vitro Agates, Mr. Peanut, have genuine counterparts while most of the others are products of SOMEONE'S IMINAGATION. Another include filling station giveaways. Thus the large number of marble bags sporting gasoline company headers that have appeared lately. ............to my knowledge, no petroleum companies ever distributed promotional marble packages.

                                                                       Beverage Bags

Beverage giveaways are popular. There were genuine giveaways  and it seems that it is hip to reproduce these as the real thing but be ware what is real and what is not. These are perhaps the toughest bags to determine the origins of since some are very similar to the vintage examples. The best way to differentiate them is by the marbles inside.  Real beverage giveaways were "bottle hangers," allowed the bag to be suspended from the neck of the bottle. However, as you can see, some of the fakes possess this same feature.

In an obvious attempt to tap into other collectible markets,  primarily from the Rio Theater in the 1940s. These mostly "advertise" popular western stars of the day in order to attract collectors of Americana, film, and western collectibles.

Bags for the most part never existed until the advent of online auctions, this is not to say that auction's are bad it is just that you must use your good judgment when buying unless you are like me sometimes I think the item is cool so .........

           However I will only sell only the real item and if there is a reasonable doubt I don't

      Alley Agate Company

              (1929-1949)

The Alley Agate Company, owned by Lawrence Alley, (1929-1949); it was located in four different West Virginian cities:

Paden City (1929-1932),

Sistersville (1932-1934),

Pennsboro (1934-1937),

and St. Marys (1937-1949).

It may also have been situated in Salem for a time. The name of the company changed  in 1931 when it became the Lawrence Glass Novelty Company, and in 1939 it was changed to the Alley Glass Manufacturing Company.

Berry Pink joined the company in 1931 but soon left then reappeared in 1949 he and Sellers H. Peltier bought the company. The name was changed to Marble King.

    MARBLE Company's

For a quick history of different company's look throughout this site for the different company's.



                             Vintage

                                     Contemporary

                                                 Art Marbles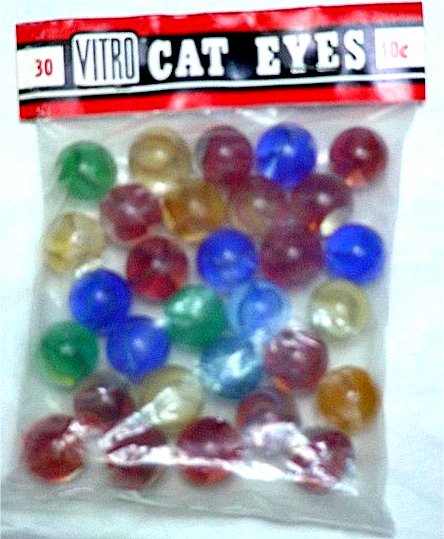 Various soft drink logo marbles such as Orange crush, 7 UP, Dr Pepper, Dad's rootbeer, RC cola, Frostie rootbeer, Grapette.

All Logo marbles are the standard shooter size unless otherwise stated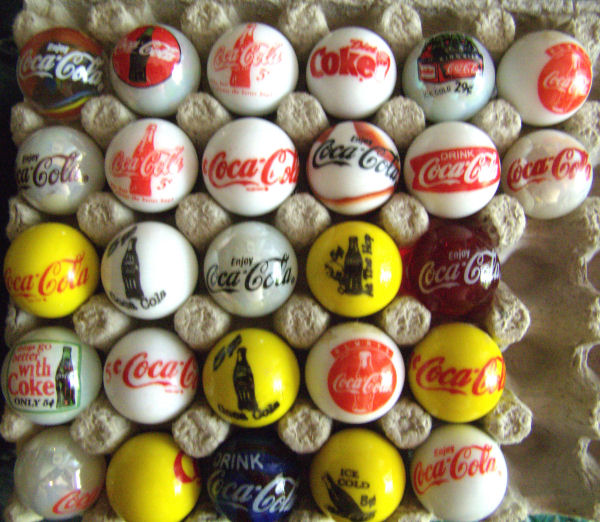 A                B                  C                D                 E                  F

Coke Cola

Logo

Advertising Marbles

Shooter size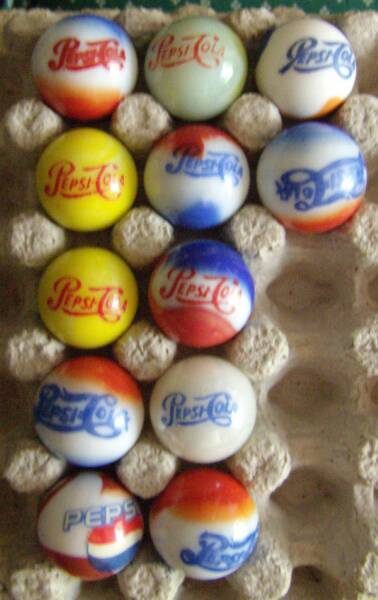 A                            B                         C

     A                       B                 C                      D                    E                 F